Admissibility to Canada: Free Legal Consultation | Campbell Cohen
Last updated:
23 August 2021
---
Call the Campbell Cohen Immigration Law Firm now for a free consultation:
Do you want to visit Canada but have concerns you will be found inadmissible due to your criminal record? For example, have you been convicted of a DUI or another offense? Are you looking to visit Canada from the U.S.?
The Campbell Cohen Immigration Law Firm is here to help.
The Canadian government provides several options you can pursue to overcome criminal inadmissibility so you can enter Canada.
Campbell Cohen will use its over 45 years of expertise to identify which option is best for you.

Get a Free Telephone Consultation with the Campbell Cohen Immigration Law Firm. Complete the form below or call us now:


How the Campbell Cohen Immigration Law Firm Can Help You

Canada is one of the most open nations on the planet welcoming tens of millions of foreign nationals each year. Prior to COVID, for instance, Canada welcomed 15 million American tourists each year.
However, Canada has strict rules when it comes to criminal inadmissibility. Having a criminal record or even a charge can be grounds for a Canadian border officer to deny you entry.
Campbell Cohen is a leading Canadian immigration law firm that uses its over 45 years of experience to help foreign nationals avoid surprises at the border. Our team of 60 immigration lawyers, paralegals, and other staff are here to provide you with trusted information, understand your situation, and give you the legal advice and service you need to make your entry to Canada as smooth as possible.
Our Areas of Expertise Include:
Assisting travelers from the U.S. overcome misdemeanors, felonies, and charges
Entering Canada with a DUI
Entering Canada if you have been deported from the U.S.
Transiting through Canada
Overcoming inadmissibility ahead of your Canadian hunting or fishing trip
Helping airline staff and performing artists
Our Services:
The Canadian government offers several remedies to help foreign nationals overcome criminal inadmissibility. The option that you can pursue depends on circumstances such as the type of crime you completed, the severity of the crime, the number of offenses you have completed, and when you completed your sentence. Schedule a free telephone consultation with our experts so we can identify the best option for you. Common solutions include:
Applying for a Temporary Resident Permit (TRP)
Rehabilitation
Obtaining a Legal Opinion Letter
Applying for Authorization to Return to Canada


Meet Campbell Cohen's Admissibility Team

Matt Hendler
Matt Hendler is the Director of Admissibility at Campbell Cohen. Matt specializes in inadmissibility issues pertaining to foreign nationals who plan on entering Canada.
Attorney Daniel Levy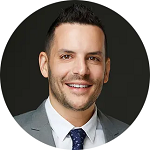 Daniel is a Senior Attorney at Campbell Cohen. Daniel has worked at Campbell Cohen for over 10 years and leads the law firm's Work Permit, Business Immigration, Inadmissibility, and Citizenship practices. Daniel divides his time between the U.S. and Canada to provide legal guidance to clients across a variety of different industries. Daniel obtained his law degree from McGill University.
Tonia Holden
Tonia is the Department Manager of Temporary Residence at Campbell Cohen. A member of the Campbell Cohen team since 2009, Tonia possesses a wealth of expertise on work permits, Labour Market Impact Assessments (LMIAs), citizenship, inadmissibility, among other areas of Canadian immigration. Tonia is a graduate of McGill University.