Every year, the Government of Canada produces an immigration levels plan that outlines the number of new Canadian permanent residents it aims to admit through the country's various immigration programs. 
The first multi-year immigration levels plan was introduced by Immigration, Refugees and Citizenship Canada (IRCC) in 2017 and set out admissions targets for 2018-2020 for Canada's economic, family, refugee and humanitarian immigration programs. This plan was later replaced in 2018 with IRCC's immigration levels targets for 2019-2021.
Economic immigration, which is a major driver of Canada's economic growth, accounts for more than half of planned admissions through the multi-year levels plan.
The majority of projected economic admissions would be issued through the federal Express Entry system programs: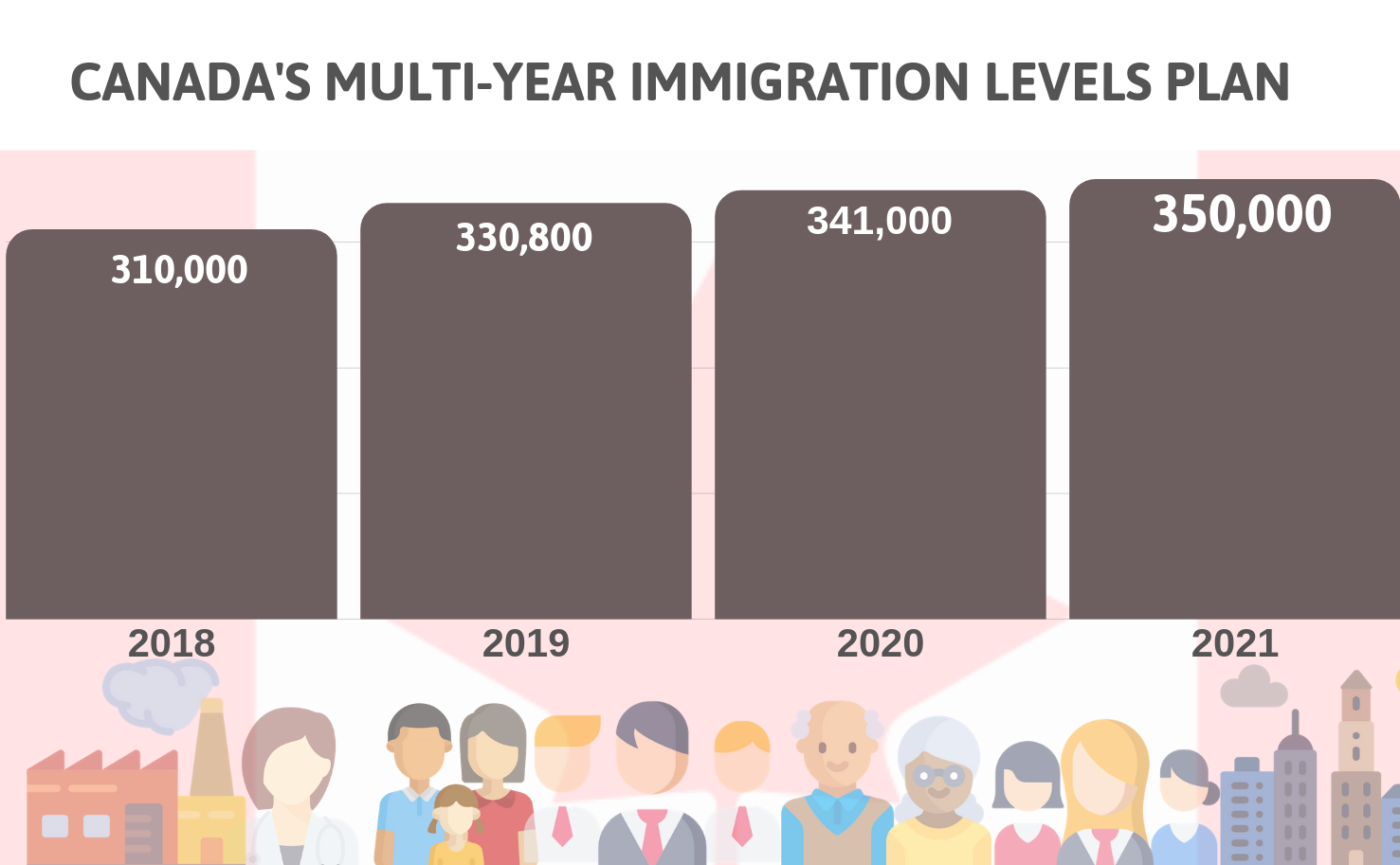 Canada is set to welcome more than 1.3 million new immigrants over the next three years.
Canada's Provincial Nominee Program (PNP) is also expected to play an increasingly important role in terms of economic immigration. This program allows participating Canadian provinces and territories to nominate eligible immigration candidates who match local workforce needs for permanent residence.
Visit the links below to see details on Canada's Immigration Levels Plan (2018-2021): 
The following are immigration programs included in Canada's Multi-Year Immigration Levels Plan:
Economic Programs
Federal Skilled Worker (FSW) Program:
This Express Entry-managed program is for immigrants with the requisite education, work experience, proficiency in English and/or French and other skills need to establish themselves economically in Canada.
Federal Skilled Trades Class (FSTC):
The Express Entry-managed Federal Skilled Trades Class is for foreign workers with qualifications in a skilled trade.  
Canadian Experience Class (CEC):
The Canadian Experience Class is managed by the Express Entry system and welcomes expressions of interest from foreign workers with Canadian work experience or recent graduates of Canadian educational institutions working in Canada.
Atlantic Immigration Pilot Program (AIPP):
The Atlantic Immigration Pilot allows designated Atlantic employers to recruit and hire foreign skilled workers or international graduates in the Atlantic Canada region (Newfoundland and Labrador, Prince Edward Island, Nova Scotia, and New Brunswick).
Caregivers Program:
Canada allows eligible foreigners caring for children and people with high medical needs the opportunity to apply for Canadian permanent residence. 
Federal Business (Start-Up Visa Program and Self-Employed Person):
Federal business class programs allow foreigners who meet eligibility requirements the chance to run new or pre-existing businesses in Canada.
Provincial Nominee Program (PNP):


This program allows participating provinces and territories to nominate eligible economic immigration candidates for Canadian permanent residence.

Quebec Skilled Worker Program and Quebec Business:
T

he province of Quebec runs its own immigration system outside the federal system. The Government of Quebec's planned levels for 2019 to 2021 have yet to be determined.
Family Class Programs
Refugees and Protected Persons, Humanitarian and other
Protected Persons in Canada and Dependents Abroad
Blended Visa Office Referred