You are in the archive section. Content on this page may no longer be valid.
If you are interested in working as a Early Childhood Educator or Assistant in Canada, you will be pleased to know that the job outlook for your occupation in Canada is extremely positive.
You can use this overview of the Canadian employment prospects in your field to start planning your immigration and settlement in Canada.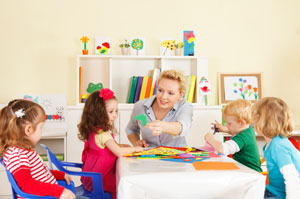 Important statistics for this occupation:
In recent years, employment in this occupations has increased sharply, mainly as a result of the increased participation rate of women and the Quebec government's Places at the reduced contribution program.
Job opportunities will primarily come from staff turnover, employment increase and positions vacated by retiring early childhood educators and assistants.
Employers in this field offer temporary positions on a regular basis to replace staff on maternity, parental, or illness leave.
According to 2006 census data, the percentage of immigrants in this occupation in Canada was slightly higher than that of all occupations (15% compared with 12%), which shows that positions are accessible to newcomers.
The median yearly income for Early Childhood Educators ranges from $24,000 to $44,000.
Duties for Early Childhood Educators and Assistants
Early childhood educators plan, organize and implement programs for children between the ages of infancy and 12 years. Early childhood educator assistants provide care for infants and preschool- to school-age children under the guidance of early childhood educators. Early childhood educators and assistants lead children in activities to stimulate and develop their intellectual, physical and emotional growth and ensure their security and well-being. They are employed in child-care centres, daycare centres, kindergartens, agencies for exceptional children and other settings where early childhood education services are provided. Supervisors of early childhood educators and assistants are included in this unit group.
Description of Main Duties
Early childhood educators perform some or all of the following duties:
Develop and implement child-care programs that support and promote the physical, cognitive, emotional and social development of children
Lead activities by telling or reading stories, teaching songs, taking children to local points of interest and providing opportunities to express creativity through the media of art, dramatic play, music and physical activity
Plan and maintain an environment that protects the health, security and well-being of children
Assess the abilities, interests and needs of children and discuss progress or problems with parents and other staff members
Observe children for signs of potential learning or behavioural problems and prepare reports for parents, guardians or supervisor
Guide and assist children in the development of proper eating, dressing and toilet habits
Establish and maintain collaborative relationships with co-workers and community service providers working with children
May plan and organize activities for school-age children in child-care programs before and after regular school hours
May supervise and co-ordinate activities of other early childhood educators and early childhood educator assistants.
Early childhood educator assistants perform some or all of the following duties:
Support early childhood educators in carrying out programs that promote the physical, cognitive, emotional and social development of children
Engage children in activities by telling stories, teaching songs and preparing crafts
Prepare snacks and arrange rooms or furniture for lunch and rest periods
Assist with proper eating, dressing and toilet habits
Submit written observations on children to early childhood educators or supervisors
Maintain daycare equipment and assist in housekeeping and cooking duties
Attend staff meetings to discuss progress and problems of children
May assist early childhood educators or supervisors in keeping records.
Example job titles for Early Childhood Educators and Assistants:
Child care worker assistant
Child care worker, daycare
Daycare helper
Daycare supervisor
Daycare teacher
Daycare worker
Early childhood assistant
Early childhood education worker
Early childhood educator (E.C.E.)
Early childhood educator – preschool
Early childhood educator assistant
Early childhood program staff assistant
Early childhood supervisor
Preschool helper
Preschool supervisor
Find out about salary ranges for Senior Managers in different Canadian cities with our Canada Salary Calculator.
You can start looking for a job in Canada by using our Canada Job Search Tool.